Netcetera is proud to announce that once again the company has appeared in Netcraft's global list for the most reliable web hosting companies for the month of June.
It might be hard to believe that in such a competitive industry that one company can dominate the performance ratings for reliability and speed but that's exactly what we have achieved in 2016 so far. This is another great achievement as we continue to celebrate 20 years of business and we're very proud to still be recognised as one of the most reliable hosting companies in the world.
Having such reliable independent monitoring also makes it easier for clients to make an informed choice prior to signing up for a hosting package.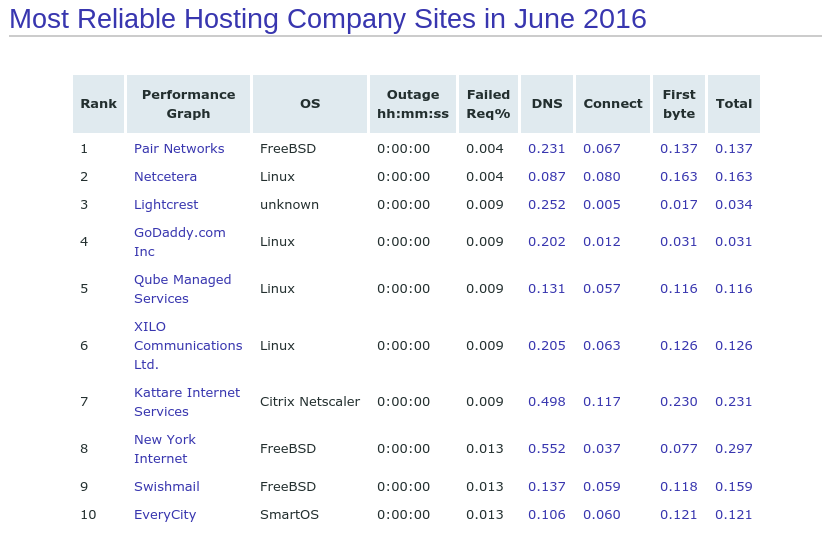 Netcraft has now been monitoring Netcetera for over 11 years and we're pleased to say that during that 11 year period we have maintained an uptime record of 99.96 %. 
Netcraft acts as an unbiased and independent auditor of hosting companies across the world willing to be monitored. Our commitment to continually test ourselves against external bodies such as Netcraft and WebPerf is a testament to our confidence in the services we provide.
With the opening of our new state of the art hosting hall, Netcetera is now in an even stronger position to continue to offer awesome reliability across all the hosting solutions the company provides.
With a hosting package to suit all budgets we're sure we can meet your demands and your budget. With packages starting from only £2.99 p/m there's no excuse not to choose faster more reliable hosting from Netcetera. We also offer fully managed website solutions and a migration service to make that switch to better hosting hassle free.
Faster hosting comes as standard with Netcetera. So if you want Carbon Zero super fast hosting, excellent technical support at unbeatable prices there's only one place you need to go.
Questions?
To speak to one of our Sales Consultants about what our services can do for you, or for any other queries, please call 0800 808 5450