Netcetera is proud to announce that once again we have appeared in Netcraft's global list for the most reliable web hosting companies.
November has been a great month for Netcetera, not only are we the UK's number one hosting provider according to Webperf but we continue to be ranked in the top ten of Global Hosting Companies by Netcraft.
There's never been a better time to start building your website with Netctera. Choose from a wide choice of shared hosting, cloud, dedicated servers, and managed solutions all guaranteed to deliver reliability and value for money.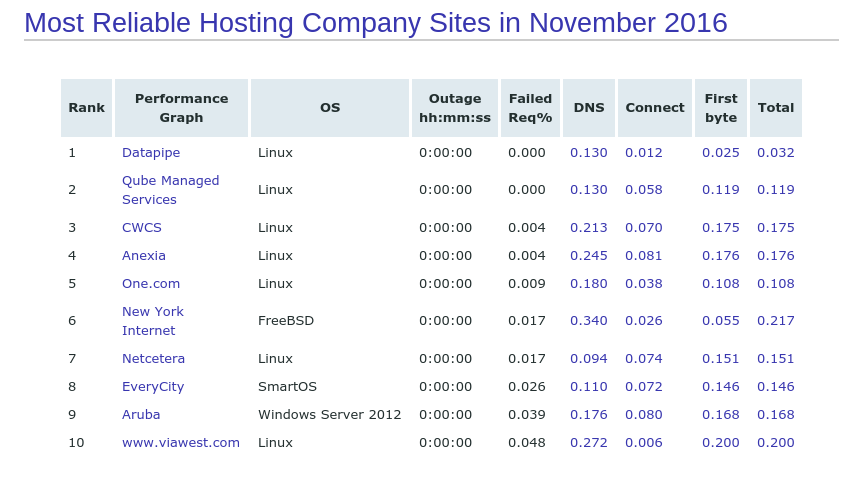 Netcraft independently monitors and measures the response times of fifty leading hosting providers' sites. These performance measurements are made at fifteen-minute intervals, from separate points around the Internet, and averages are calculated over the immediately preceding month. Netcetera has again been ranked in the top 10 in the world for the month of November 2016.
Switching to better hosting has never been easier with our awesome 24/7 technical support, friendly sales team and easy to use website. You can switch to Netcetera in a couple of clicks. Why not join the thousands of people around the world who are hosting with Netcetera. Find out today how fast hosting can benefit your business and boost your website.
Isn't it time you switched to a more reliable web hosting company?
Questions?
To speak to one of our Sales Consultants about what our services can do for you, or for any other queries, please call 0800 808 5450 or Chat Live with one of the team