Businesses that operate in today's competitive environment have to ensure seamless, reliable and effective business continuity in the event of any kind of outage that can cause disruption.  Failing to have a provision in place can lead to catastrophic damage.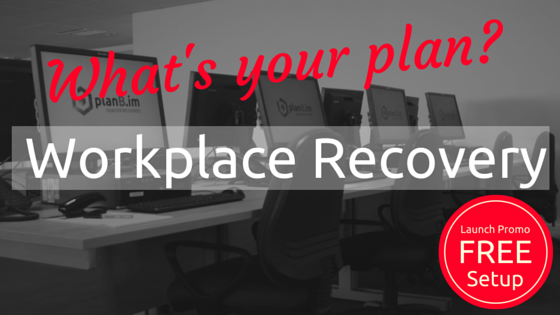 The financial, regulatory, legal and reputational risks of failing to plan for any such an occurrence are well documented. When thinking about business recovery it's quite easy to be drawn into thinking "oh what's the chance of an earthquake on the Isle of Man" but in reality the need to temporarily relocate staff is caused by much more mundane events such as burst pipes.
Business Continuity with Netcetera's planB will give your business all the essentials needed to maintain operation through incidents of any kind : power failure – IT crashes – fire – flood – utility outage and human errors.
What do you get?
Shared or Dedicated Seats
Located outside of Douglas
Dedicated Account Manager
Close to airport and transport
Resilient Green Datacentre onsite
Dedicated 24/7 support
Secure onsite parking
Kitchen and rest area
PC, Telephone and Printers
Meeting Rooms
Storage
Guest Wifi
We have a limited number of seats in our new Business Recovery Centre that come with FREE setup, saving you £50.00 per seat on your path to recovery.
The Centre also has hotdesks available, with WiFi and access to the listed facilities at £20.00 per day.
Questions?
To speak to one of our Sales Consultants about what our services can do for you, or for any other queries, please call 0800 808